Ayrstone Pro Partner Authorized Reseller Program
What is it?

The Ayrstone AyrMesh system is an outdoor meshing WiFi system, designed to provide an Internet Protocol (IP) network for a relatively small number of clients spread out over a relatively large area, such as is typical on a farm or ranch. It provides both wireless (WiFi) and wired (Ethernet) connectivity for devices across the farm.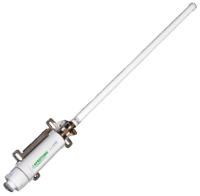 The basis for the Ayrstone AyrMesh system is the AyrMesh Hub, a small device which can provide WiFi connectivity over a very large area. The first AyrMesh Hub, called the Gateway, is connected to the customer's Internet-enabled router (using DSL, Cable, wireless, cellular, or satellite Internet connectivity) with an Ethernet cable and mounted as high and "in the clear" as possible outside. Additional Hubs, called Remotes, are mounted high and in the clear, but only require power (which is delivered on an Ethernet cable via Power over Ethernet, or PoE). They can be powered by solar or wind-charged 12 volt batteries, and can be placed up to 2.5 miles apart.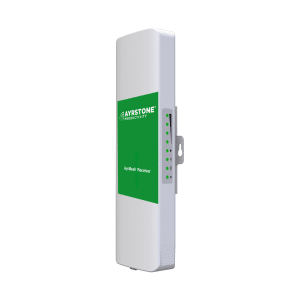 There are several additional products in the line: the AyrMesh Receiver, the AyrMesh IndoorHub, the AyrMesh Bridge, and the AyrMesh Cab Hub2.
See the "How it Works" pages for more detailed information.
What's the opportunity?
There are several opportunities for businesses to partner with Ayrstone.
The obvious one is simple reselling: we offer resellers a generous discount off the list price so they can profitably provide Ayrstone products to their local customers.
However, even though the Ayrstone products are designed to be very easy to install, many of our customers would prefer to have someone else install and maintain their networks. Larger, more complex farms will also need significantly more complex installations. For resellers who have technicians who are:
Technically competent in wireless network set-up and maintenance
Willing and able to install Ayrstone products (running Ethernet cable, climbing to roofs, and even putting up poles and towers)
Willing and able to service their customers on the usage of our products
there are significant opportunities to sell additional products and services, as well as generate ongoing revenue for maintenance of the network. You are free to charge what you see fit for these services.
We're behind you!
Resellers benefit from Ayrstone's ongoing national advertising and receive priority technical support from our support staff. We also provide sales and marketing assistance, technical training, and other program benefits to help you be successful.
How to get involved:
Apply now to the Ayrstone Pro Partner Authorized Reseller Program.