The AyrMesh® system is based on high-power, long-range outdoor meshing WiFi Access Points called "AyrMesh Hubs." The first Hub is connected to your

router and then mounted outside, high and in the clear for maximum range. Additional Hubs are initialized by plugging them into your router until they check in to AyrMesh.com, then deploying them out where they are to be used. As long as they are mounted high enough, AyrMesh Hubs can be up to 2.5 miles apart, and you can string them out up to 3 "hops" from the first Hub, potentially creating a circle of WiFi 15 miles across.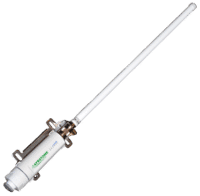 Other AyrMesh products can be used to extend and enhance the Hubs: The AyrMesh Receiver can be used to connect buildings and stationary devices. the AyrMesh Cab Hub is an AyrMesh Hub that brings the AyrMesh network to tractors, sprayers, combines, trucks, and even ATVs and utility vehicles. The AyrMesh Bridge is a simple wireless bridge that can be used just like a wireless Ethernet cable. The AyrMesh IndoorHub is a WiFi Access Point that can be used in conjunction with the Hubs, Receivers, and Bridges to create WiFi access inside of outbuildings. Finally, the AyrMesh Switch is a simple Ethernet switch: think of it as an outlet strip for Ethernet ports.